Baker Tilly is committed to helping you and your organization, and providing you with the latest information and answers to questions related to the Paycheck Protection Program (PPP).
We understand the difficulties you may face in applying for a PPP loan, monitoring the utilization of loan proceeds, or complying with forgiveness submission requirements specific to your unique payroll situation.
To assist you with your PPP loan process, Baker Tilly Value Architects™ have developed a short video to guide you through our web-based portal and tools that will assist you while working through your PPP loan.
Need help assembling your information to apply for PPP loan forgiveness?
Combine SBA's prior guidance, and the Senate's approval to an extended 24-week loan forgiveness period, and there are plenty of questions on when and how to assemble your information to substantiate your loan forgiveness. Baker Tilly can help you assemble your actual daily payroll data, FTEE's, and the forgiveness period.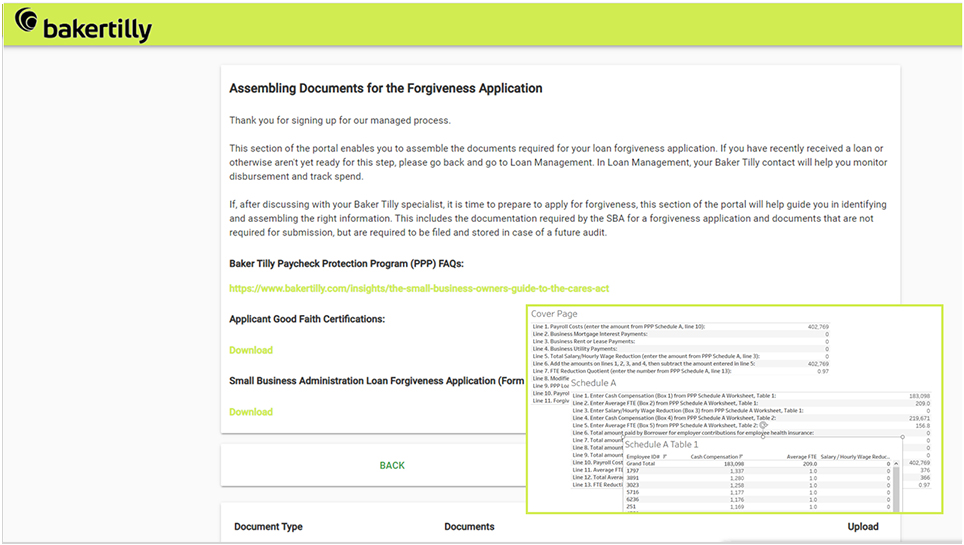 Assemble your documents for the SBA forgiveness application
Watch the video below to learn more about how we can help you with your SBA PPP Loan. Once you watch the video, you can get started by contacting our team!
Apply
If you need to apply for a PPP loan, here is a short video on how we can help:
For more information on these tools or to learn how Baker Tilly specialists can help, reach out to your Baker Tilly professional or contact our team.