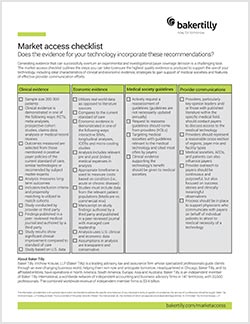 Obtain market access from healthcare providers and health plans for your medical device or technology using this checklist.
The recommendations within the market access checklist will help your company:
Provide the highest quality evidence to providers and health plans supporting your technology or device
Develop strategies to gain support from medical societies
Communicate your efforts and tell your story effectively
Download the checklist
Provide your information to download the market access checklist.
Submitting this form confirms your express consent to receive Baker Tilly electronic communications. These communications consist of educational materials, opportunities for online events, and corporate information. You may withdraw your consent by unsubscribing at any time.